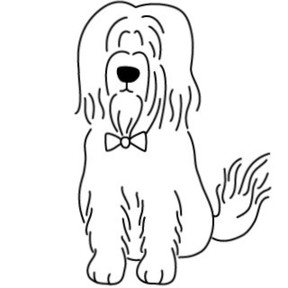 We just re-opened - previously closed due to Covid-19. Though that's great, what's not so great is we are behind on our production & shipping speeds and want to make every one of our customers aware. There will be delays until we're really back up and running at full capacity.
===Update as of July 5th
We're about to open up to full-capacity - we are still behind on all orders. We hope you do place an order since we're a small business but we're about 20 days out for each order.
Please reach out with any questions. We would love to answer them for you. And, we'll be posting on here as much as possible to keep everyone up-to-date.
Thank you, Thank you, Thank You for your patronage. We appreciate it always and especially through these hard-times and hope everyone is staying safe, and happy.
---
Dandy Randall, The Cultured Canine barks his praises of love, respect and etiquette to humans.
My love of dogs, especially one special one, inspired me to create these products.
We worked hard to come up with inspiring & fun designs that remind you of your best 4 legged kids. We picked colors that are unique to the theme of the shirt - colors that are fun and joyful. The shirts we create reminds me of all my favorite T-shirts from my past (most I still have and still wear!) We hope your new Dandy Randall T-shirt will be part of that favorite collection for you, too.
We took great time and care to bring you pre-washed cotton. Though it is pre-washed, it still needs care - please wash all cotton in cold and tumble dry low or air dry. We are not responsible for shrinking cotton shirts.
And, listing on BarkYours has been amazing for me to showcase some of these items.
....Thank you for looking
---
◆ Please note that not all orders are shipped from our local address. Delivery may take 7 - 10 business days
◆ Please don't hesitate to contact us if you have any questions at all!
◆Do you want your dogs likeness on a shirt, a different shirt color, a slight variation in your dog breeds design color ?? We might be able to accommodate and customize - please ask us the question.
---
Returns & exchanges
All items are only eligible for a return or refund if the item is damaged or faulty upon arrival. Please check the size chart to ensure that the right size is selected before purchasing.
Again, Thank You!
No followed people
5 received reviews (100% positive, 5/5)